My little Bumble Bee,
Five months is such a wonderful age.
You've grown, not just physically, but also emotionally. You are smiling, cooing, laughing, reaching, kicking, wriggling, rolling, touching, exploring.
We've got you sitting up on an angle in the pram now, facing forward. You're loving watching the world go by. You break out into the biggest, most engaging smile whenever anyone simply glances your way. And you break out into a real chuckle at the first hint of a game of peek-a-boo.
Out of the pram, we're continuing to put you down on your tummy every time, but you are quicker to roll over onto your side now. You can sometimes manage to shuffle yourself around 180 degrees.
But you are getting frustrated by your immobility. You'd like to be able to crawl. You'd like to be able to sit up by yourself too.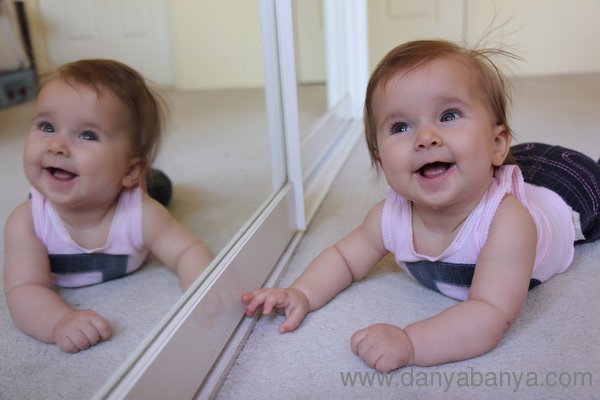 Double trouble!
You've been gnawing on your fists a bit lately. I think maybe you might be getting your first tooth. I thought I could feel something the other day. We gave you some Bonjela tonight, and you squished your face up into the most shocked expression. I realised it's only your third taste – besides breast milk and the oral Rotavirus vaccine.
Somehow you've adopted a toy spoon from JJ's kitchen as one of your favourite toys, and you've been exploring it, sucking on it, discovering where your gag reflex is. This is good practice for you, since we're intending to try a modified version of Baby-led weaning.
You are just starting to show some of the readiness signs for solids. You are getting quite good at holding things and bringing them to your mouth. But you're still getting the hang of sitting, and will often flop forward over the side of your Bumbo. And you're not yet showing great interest in the foods that we eat. Maybe by next month you'll be ready.
You went to your first Blogger Catch Up this month, and won everyone's hearts. I've just bought us tickets to attend DPCON13 next month, so you're going to become famous across the blogosphere! Hopefully for all the right reasons. I don't want to become known as the blogger with baby vomit down her back, OK?
Your sister has been asking to hold you all the time lately. You're not the biggest fan of this, as you prefer to be able to see her face rather than to be squished up against her chest. But you generally put up with it for a minute or so. She says things like "She's soo cute!", "It's your big sister", "I love you", "Baby Bee, I didn't recognise you were coming" and "I'm so glad you came". I'm not so sure why she says the last two, but she says them with such affection in her tone that I don't have the heart to correct her.
I must apologise for the general lack of photos of you throughout this month. I've just joined Instagram and promise to take way too many photos next month to make up for it.
I love you as much as you think peek-a-boo is hilarious.
xx
Mummy
Previous letters to Bee:
A letter to Bee (4 months)
A letter to Bee (3 months)
A letter to Bee (2 months)
A letter to Bee (1 months)
Bee's Birth Story